Bravo 22: The performance of their lives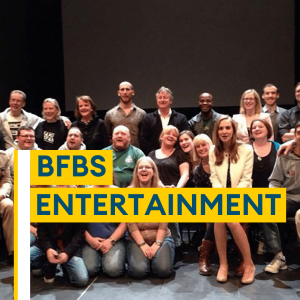 Listen to entertaining stories from interesting people from the Forces world and beyond.
Charlene Guy and Royal Marine Cassidy Little go behind the scenes of a new production from the makers of "The Two Worlds of Charlie F", the 2012 stage show which featured wounded, sick and injured forces personnel.
Hear how the theatre company Bravo 22 created a new play including wives, veterans and members of the wider military community.
Charlene and Cassidy meet the cast, including 15-year-old Estelle Wilkinson, who joined the theatre company to learn more about her dad's role as an Army Reservist, and Luke Delahunty, a veteran of the RAF Regiment who was paralysed in a road traffic accident.
Without a script, armed with their own stories and experiences, this extraordinary cast rehearsed for just seven weeks before performing live at the Aylesbury Waterside Theatre.
Subscribe & listen
More episodes
Colin Thackery: The Next Stage
Colin Thackery is the singing Chelsea Pensioner who at the age of 89 became the oldest person ever to secure their first record deal.
Here he tells Richard Hatch and Verity Geere about the impact of winning the competition and looks back on his life serving all over the world with the Glorious Glosters.
Andy McNab In Conversation With Hal Stewart
Andy McNab talks to BFBS about how he was abandoned as a baby, became a delinquent teenager, and then changed his life by joining the Army. Hal Stewart talks to Andy about command of Bravo Two Zero during the Gulf War, the challenge of passing SAS selection and he plays some of his favourite tracks.
BFBS fright night: Halloween 2018
Bring a change of pants as we take a night-time tour of Drakelow Tunnels in Kidderminster, said to be one of the most haunted places on earth!
Listen as Mike Howarth and Adam Richardson go in search of the paranormal in this underground complex of tunnels. Drakelow was a top-secret military facility during the second world war and became a nuclear bunker in the 1980s.
The Cadet Takeover With Andy McNab
Tim Humphries presents a #CadetTakeover Podcast with Andy McNab. Andy talks about his life, including his 8 years in the British Army and 10 years in the Special Air Service.
Tall Stories with Stephan Merchant
Stephan Merchant is a writer, director, comedian and actor. Here he speaks to Jason Webster about his career, from the Bristol stand-up scene to the Hollywood hills.
Damn the Torpedoes
Sit back and enjoy half an hour of side-splitting forces comedy, all tied up with tinsel and coloured fairy lights.