Episode 8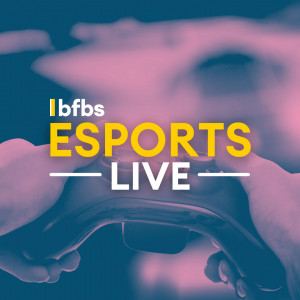 OJ Borg speaks to players from the Navy, Army and RAF who have had their lives changed by the world of gaming.
This week OJ chats with Mr Mighty Joe Young about what it takes to make into the top gaming esport teams, AS1 Pierce Mitchell talks about the RAF's new gaming zone at RAF Waddington PLUS we find out who the best game character of all time is.
More episodes
Episode 7
This week OJ chats with Flying Officer Connor Stewart about the RAF team's preparations for the upcoming Insomnia Gaming Festival. PLUS he'll be catching up with Major Timothy Harcourt, the Head of Army Esports, AND finding out what your favourite arcade game was back in the day!
Episode 6
This week OJ is joined by Able Seaman James Payne who will be competing in a drone racing tournament in Australia later this year. They will be discussing the parallels being drone racing and Esports with hand eye coordination, along with some tips on not to feel dizzy when in the moment! SAC James Harrison shares an upcoming event in September. PLUS OJ chats about the game YOU could professional in.
Episode 5
This week OJ gets the gossip from the Rapture Gaming Festival from Leading Hand Michael Duff, AKA Duffy234 from Army Esports. He's also joined by Air Media Project Manager Ken Pike of the RAF, AKA DemonPickle, to talk about their upcoming events PLUS he chats about the games YOU want to see played at forces esports tournaments!
Episode 4
This week OJ chats to Commander Gordon Jones, the chairman of Navy Esports, he'll be finding out more about the Rapture Gaming Festival, PLUS he'll find out your favourite gaming song or theme tune!
Episode 3
Listen again as OJ is joined by David AKA Zombie serving in Portsmouth and Cpl Greg from the RAF.
Episode 2
Listen again as OJ catches up with James from the Navy Esports team about Armed Forces Day plus Corporal Joe Young from the 21 Engineers about the future of gaming in the forces and lots more!
Fancy getting in touch? Head to bfbs.com/bfbs-esports-live.
Episode 1
Welcome to BFBS Esports Live!
In the first episode we find out about the latest esports events that are coming up and happening, the hottest esports games being played at the moment and more!
Fancy getting in touch? Head to bfbs.com/bfbs-esports-live.