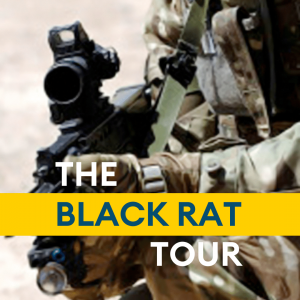 Black Rat Tour (Part 1)
26/11/2019
BFBS Radio's Hal Stewart was presents a series of five one-hour programmes recorded in Afghanistan with personnel from the 4th Mechanized Brigade, nicknamed The Black Rats.
Part 1.
During Operation Herrick 17, Hal was based at Camp Bastion, presenting a daily show from the BFBS studios. But towards the end of his deployment, he had the opportunity to go further afield on his 'Black Rat Tour'.
Accompanied by Major Laurence Roche, and Army Photographer Corporal Mike O'Neill, from 4th Mechanized Brigade, Hal travelled across Helmand Province and recorded hours of audio.
As well as meeting members of local communities, he was able to gather material from British Forces operating out of the more remote bases.