1. Major Amanda Wilcox-Jones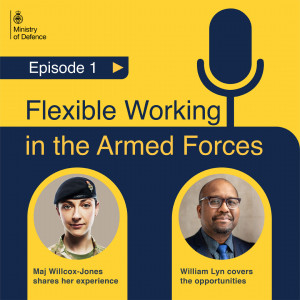 Experiences of flexible working across the forces.
How do members of the armed forces work flexibly?
This series explores flexible working through the experiences of servicemen and women.
You'll hear all about the opportunities, impacts and culture that surround it.
Major Amanda Willcox-Jones shares her story of how she began to work part-time when she returned to work after maternity leave.
William Lyn is an expert in flexible working in the armed forces and explains all the opportunities available.
Are you thinking about whether you could work flexibly? See the MOD's Flexible working and you booklet for more information.
This series is presented by Lucy Coward and made by BFBS Creative for the MOD.