Gemma Rowland Military Mindset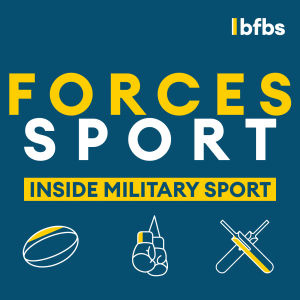 Keeping you up to date with sport across the Forces world.
Gemma Rowland is an elite rugby player and gives 110% whether she is wearing an Army shirt, the black and yellow for Wasps in the Premier 15s or the red of Wales women. But, as Cath Brazier and Julian Evans found out, it's her drive and constant search for improvement off the pitch that really singles her out. In this episode they go beyond rugby to discuss mental health, the challenges still faced by women in sport and how the military gave her the strength to achieve.
Subscribe & listen
More episodes
Ding Dong Nick De-long
Nick De-long suffered the disappointment of not making it as a professional football as a youngster but was encouraged to pursue an armed forces career. Cath Brazier and Julian Evans have both seen how, in his time with Royal Air Force and UK Armed Forces football, 'Ding Dong' has proven to be an inspirational leader, both on and off the pitch. Going full circle, he has now returned to Bristol Rovers, where he played as a youth, to help develop their young players.
The Jake Paul Challenge
Army boxer Chez Nihell speaks to Cath and Jules about his tough decision to retire from professional boxing, even with an unbeaten record in four fights. An armed forces stalwart in the ring, he is looking forward to coaching the stars of tomorrow and reckons he could handle himself against the likes of Jake Paul!
Rugby Remembers
To mark Remembrance, historian Graham McKechnie speaks to Cath and Jules about some of the great characters that have represented their country on the field of play and on the battlefield over the years. Affiliated to Northampton Saints, Graham discusses the legendary Edgar Mobbs, who fought and died in WW1 all the way through to modern servicemen like Tim Rodber.
Cornwallian
In the sixth episode of Forces Sport, Cath Brazier and Julian Evans speak to Sam Matavesi – a Royal Navy rugby player who is excelling at English premiership club Northampton Saints. The hooker is a proud Cornishman and Fijian and will now spend the next month with Fiji Rugby as they face Spain, Wales and Georgia, in the autumn internationals.
Balls and Buckets
In the fifth episode of Forces Sport, Cath Brazier and Julian Evans speak to Amy Cokayne - an RAF, Harlequins and England rugby player who has amassed 57 caps for her country at only 25 years old! She revisits her childhood in New Zealand and how she could have been a kiwi plus she talks about how she's recruiting elite players into the military and what her very competitive family gets up to at Christmas!
Ironing and Early Mornings
Cath Brazier and Julian Evans speak to Liam Sanford - an RAF, England and GB hockey player who had his first Olympic experience this summer in Tokyo. He shares what the Olympic village was like, how he's dealt with disappointment and what it's like to be back at work in a new job at RAF Brize Norton.
Get in touch: [email protected]
Where's the rest of you?
In the third episode of Forces Sport, Cath Brazier and Julian Evans speak to John Simpson, the man behind the Simpson Cup - a Ryder Cup style golf tournament for wounded, injured or sick service personnel and veterans from Great Britain and the US.
Melons and Marathons
Forces Sport brings you an insight into the world of military sport through up-to-date news and insightful interviews with some of the armed forces' best sportspeople. In the second episode, Cath Brazier and Julian Evans speak to professional triathlete Kat Matthews - the Army physiotherapist competes for GB in Ironman, and she talks about what motivates her to succeed in such a tough individual sport.
Scrums and celebrity saunas
Forces Sport brings you an insight into the world of military sport. In the first episode, Cath Brazier and Julian Evans speak to Bath Rugby stars Semesa Rokoduguni and Josh McNally. The duo give their thoughts on what their armed forces backgrounds bring to professional rugby, their roles as fathers and the future of inter service and combined service rugby.