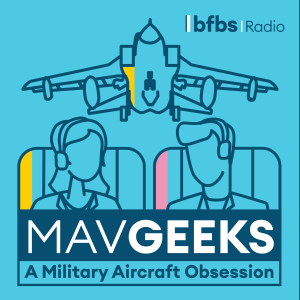 Saving Lives With Llewis Ingamells of Lincs & Notts Air Ambulance
28/11/2023
Calling all AvGeeks! Join Gini and Jamie as they get completely obsessed with military aircraft. They talk to the pilots, air crew and ground crew who flew them, fixed them, loved them and sometimes even hated them.
To tie a knot on this fourth series of MavGeeks, Gini and Jamie come good on a promise they made way back in one of its earliest episodes. That's right, they've tracked down Llewis Ingamells, Chief Pilot of the Lincs and Notts Air Ambulance! Llewis was incredibly generous with his time and wisdom, imparting reams of insider knowledge on this fascinating, daring and ultimately unsung world of heroic work.
Lincs and Notts, like your local Air Ambulance service, exists thanks to generous donations! To donate, head to https://www.ambucopter.org.uk/.
We want to hear your aviation tale, what you made of our fourth series, and the flying machines you want us to cover in our fifth! Get in touch via [email protected], and feel free to leave us a glowing review.