Lockheed Tristar: The Big White Party Bus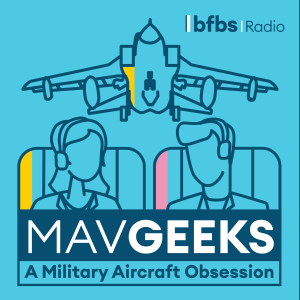 Calling all AvGeeks! Join Gini and Alex as they get completely obsessed with military aircraft. They talk to the pilots, air crew and ground crew who flew them, fixed them, loved them and sometimes even hated them.
Gini's been seeing planes in her sleep and Alex has been showing off to his mates about his transponder knowledge.
Dick Lawtey from Airtanker pops by to properly fanboy the Lockheed L1011 Tristar from his 216 Sqn days at RAF Brize Norton and takes us down "Penny Lane" on the big white party bus. Some MavGeeks believe this was the inspiration for the Vengaboys biggest hit.
Will they Kemble it or keep it? As its Gini's favourite widebody- Alex needs to think very carefully and be very afraid…
This is an original podcast series from BFBS. Written, presented and produced by Gini Carlin and Alex Gill
More episodes
Introducing MAVGEEKS: A Military Aircraft Obsession
Fasten your seatbelt and prepare for take-off as self-confessed aviation nerds Gini and Alex get completely obsessed with their favourite military aircraft. From Tristars to Tornadoes, VC10s to Buccaneers, they share their passion for planes and geek out on the week's aviation news. We hope you enjoy this in-flight entertainment!
Subscribe now and never miss an episode of this original podcast series from BFBS.