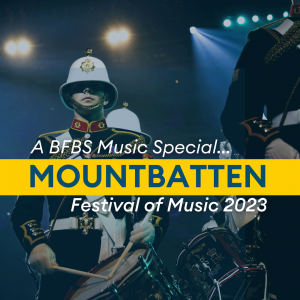 Mountbatten Festival of Music: Behind the Scenes
22/06/2023
BFBS is proud to bring you some musical highlights as we celebrate the very best of military music!
For 50 years the Royal Albert Hall has played host to the annual Mountbatten Festival of Music featuring His Majesty's Massed Bands of the Royal Marines.
A captivating performance of enchanting melodies, extraordinary musicianship, pageantry and a spectacle of military excellence.
During this BFBS music special, presented by Jess Bracey, we'll hear highlights from the 2023 concert featuring classical and contemporary music as well as interviews with band members as we take you behind the scenes of the rehearsal ahead of the iconic showcase.