The SSAFA Christmas Carol Concert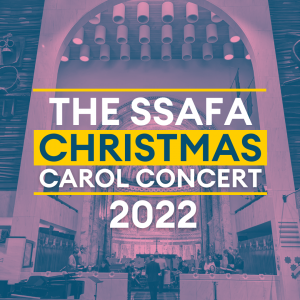 BFBS is proud to bring you some musical highlights as we celebrate the very best of military music!
Jess Bracey & Tim Humphries bring you highlights of the Christmas Carol Concert in aid of SSAFA The Armed Forces Charity from The Royal Military Chapel The Guards' Chapel, London. As the focus is the 40th anniversary of the Falklands Conflict, you can hear how the soldiers, sailors and airmen who gave the ultimate sacrifice are remembered and honoured.
Also, as many face the cost-of-living crisis, we hear from SSAFA's Chief Executive about how the charity's meeting the needs of forces families, beneficiaries and share powerful, personal stories, and in a season of mixed emotions, hear how the Christmas message brings hope.
More episodes
Mountbatten Festival of Music 2022
BFBS brings you highlights from the Mountbatten Festival of Music. Featuring the Massed Bands of HM Royal Marines, the Fanfare Team and world-famous Corps of Drum from the Royal Albert Hall.
SSAFA Christmas Carol Service
Tim Humphries & Jess Bracey bring you highlights of the SSAFA Christmas Carol Concert from Guards Chapel, Wellington Barracks, London.
The Mountbatten Festival of Music 2021
BFBS brings you the highlights from this year's Mountbatten Festival of Music at the Royal Albert Hall as one of the best military bands in the world comes to life.
Kneller Hall - A Final Farewell
Kneller Hall, the home of British Army music since it was established in 1857, will soon close its gates in Twickenham for the final time and the Royal Military School of Music will move to Portsmouth to co-locate with the Royal Marines Band Service.
To mark this end of an era and the start of a new chapter, Kneller Hall recorded a special one-off concert to take the place of the traditional weekly summer events they have hosted for many generations with audiences of about 2,000 a night.
The Mountbatten Festival of Music
Jess Bracey presents interviews and musical highlights from this year's Mountbatten Festival of Music at the Royal Albert Hall.
The festival showcases the incredible musicianship and pageantry of the Massed Bands of Her Majesty's Royal Marines and features a wide range of musical styles. There's music from the big screen, some superb solo performances, as well as the traditional marches and overtures that have proved such a hit with audiences over the years at this annual event.