On Track with Caroline Paige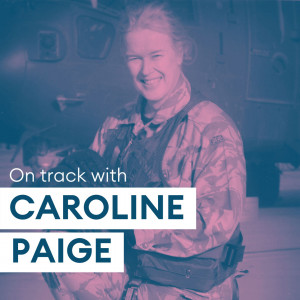 BFBS brings you great interviews with serving military personnel as well as some famous faces!
Caroline talks to Mike Howarth, telling him about her emotional journey, from one of her earliest recollections of gender identity; when she was caught by her father wearing one of her sister's dresses as a child, to the happier side of her teenage years when she joined the
More episodes
On Track with Commander Field Army
Lieutenant General Jones joined the Army despite his long-held ambition of becoming a top-level rugby player. In fact, his best friend at school bet him £10 that he would never sign-up!
His early Army years were spent in the Falkland Islands, Cyprus and on artic warfare training in Norway.
Here he talks about his challenging job, his family and his love of sport, while sharing his favourite music.
Tracks from The Specials, Tom Jones, The Killers and Billy Joel make it on to his playlist. Some of the songs remind him of his tours in Iraq and Afghanistan.
Lt General Ivan Jones spoke to Frank McCarthy at BFBS Canada.
On Track with Georgia Steel
From 'loyal' Navy to British Forces - does Love Island's Georgia Steel have what it takes to join up?.
Georgia Steel is put through her paces as she participates in a series of military vehicle skills tests for our special radio programme, 'Georgia Steele On Track with Forces Radio BFBS'.
On Track with Stuart Pearce
Legendary England defender Stuart Pearce OBE is a football fans favourite. He won 78 England caps, but is probably most famous for scoring a penalty against Spain in the quarter-final of Euro 96 in front of a Wembley crowd. His passionate reaction to the goal has gone down in history as one of the greatest moments in English football.
Stuart talks to Richard Hatch and Verity Geere about his life and has a go at driving a tank. Does he have what it takes to be in the British Forces?
On Track with Jenni Falconer
Jenni is put through her paces by an army tank commander as she attempts a series of military vehicle skills tests. She tells Hal Stewart about the experience and introduces her favourite music tracks.