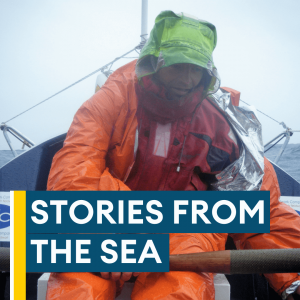 Somewhere Beyond the Sea
18/05/2020
Listen to inspirational and historical stories from the military world.
Former Royal Marine Mick Dawson has rowed more than 20 thousand miles across the Atlantic and Pacific oceans.
In 2009 he and fellow rower Chris Martin earned a place in the Guinness Book of Records for completing their seven thousand mile voyage across the Pacific in record-breaking time.
Here he tells Amy Casey about his experiences including coming face to face with killer whales, near misses with container ships and what it's like to find yourself in the eye of a hurricane.
Listen as Mick introduces the tracks that have got him through long periods of isolation at sea.
More episodes
The WRNS, more commonly known as The Wrens, was formed in 1917 when the Royal Navy faced a shortage of men during the First World War. It was disbanded in 1919 and then revived at the beginning of the Second World War. In 1993 the Wrens were fully integrated with the Royal Navy and ceased to exist as a separate service. Listen to a former Wren as she talks to veterans of the Women's Royal Naval Service (WRNS) and the Royal Navy about their experiences. Written and produced by Gini Carlin in 2017 to celebrate 100 years since the formation of the WRNS.
Richard Hutchinson revisits D-Day through the story of HMS Medusa which was deployed as a Navigation Leader during Operation Neptune. For 30 hours she withstood enemy gunfire while acting as a marker to guide American troops through German minefields and onto Omaha beach. Richard visits the D-Day Museum in Portsmouth, the famous map room in Southwick House, where President Eisenhower gave the orders for D-Day and goes on board the iconic motor launch with veterans as they retrace part of their journey in the Solent.
Gini Carlin talks to six submariners about life under the ocean. They tell her about their jobs, their skills and their pride of being a member of the Royal Navy's Submarine Service. They also talk about isolation, separation from their families and even the unique smell of a submarine!