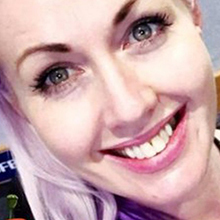 Broadcasting since the age of 14, Casey started her career at "Hill FM" in the Outback town of Broken Hill NSW Australia. She was the youngest Breakfast host in the country and still a full-time student at just 16-years-old.
It wasn't long before the excitement of the big city was calling to her and she swapped the outback for Sydney and took up post at several stations including 2DayFm & Triple M. A nomad at heart, she grabbed a backpack and traveled through Asia on route to London picking up work at various stations including Nu-Rock & TimeBomb in the Philippines & MTV South East Asia.
After exploring Europe and working for places such as Malta's Magic 91.7, she finally settled in the UK. Casey worked at KMFM in Kent & Invictus before hosting London's breakfast show on Time 106.8 London. Her love and respect for the armed forces eventually led her to Forces Radio BFBS and Forces TV.
When she's not in the gym you find Casey on roller skates battering people in the sport known as Roller Derby, walking her Woofers (dogs), being a pirate on her Canal boat.
Get in Touch