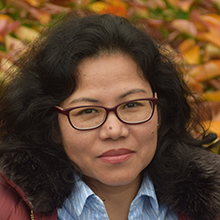 Need a favour from Asha? She'll do most things for a Ferrero Rocher and a smile.
Asha has had a connection to BFBS from the beginning of her life. Her father is a retired Gurkha Major and her husband is a retired Gurkha soldier from British Army. Being in the army environment for most of her life has helped her to connect to the force's listeners more personally.
Asha joined BFBS Gurkha Radio in 2006. She has presented and produced various shows. Now she entertains listeners by broadcasting messages, interviews, daily dose of current affairs, devising brain-teasers and chating to first caller of the day in from UK.
Before coming to Shorncliffe, Asha freelanced at BFBS in Kathmandu and Brunei (thanks to Ganesh). She took business at university in Nepal and was at high Gurkha school in Hong Kong. She was an enthusiastic athlete and still likes to shoot hoops and splash around, though these days probably against non-professionals.
Presently she lives in Kent with a large and lovely family.
Get in Touch