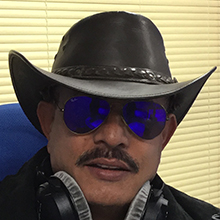 Binod Dhoj Khadka enlisted into the Brigade of Gurkhas on 16 January 1980. After basic recruit training in Hong Kong, he joined the Queen's Gurkha Signals regiment. As a soldier he has served in Hong Kong, Brunei, the United Kingdom, Malaysia, Kosovo, Bosnia, East Timor, Fiji and Tonga.
He was posted to British Forces Broadcasting Service (BFBS) Brunei in 1998 where he was employed as the Senior Producer/Presenter of the Gurkha Service. After his retirement from the army in January 2002 he immediately joined BFBS Gurkha Radio Brunei as the Station Manager.
He was posted to BFBS Gurkha Radio, Shorncliffe in 2006 in the capacity of Network Programme Director Gurkha Service and is now in Nepal as the Station Manager/Network programme Director Gurkha Service since 2010.
An energetic manager with demonstrable broadcasting experience and an extensive track record of developing and leading radio stations to recognised success. A focused and disciplined professional who served for over twenty-two years with the Brigade of Gurkhas, predominantly with the British Forces Broadcasting Service. Demonstrates innate communicative ability, expertly establishing and leveraging key relationships to support operational objectives and achieve inspirational goals. A visionary leader with the proven ability to co-ordinate complex production schedules and provides reasoned solutions within time critical working environments.
Binod presents a highly popular news and current affairs program "Kathmanduko Saugat", broadcast five days a week to a keen world-wide audience and incorporating on-location reporting, interviews with politicians and members of the public, sports updates, entertainment segments and music to appease all the listeners.
Binod is enjoying his posting in Nepal where he gets the opportunity to mix with Nepal's celebrities and noted personalities from all walks of life.
He is married to Samriddhi and they have two sons Abinav and Baivab both studying in the UK. He enjoys most sports and is a keen golfer and a competent squash player.
Get in Touch