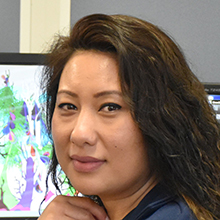 Born and raised in a small town in Nepal, Hira has been attracted to the radio ever since she was a child. Her sole dream was to be a radio presenter and reach the global audience. Today she is living her dream as a member of the BFBS Gurkha Radio team.
Hira is fun-loving. She has had a long and varied career in radio. Having been a presenter at Classic FM in Nepal, She continued her radio work with BFBS Gurkha Radio in the UK and Brunei as well. As and when her husband moves, she is flexible enough to serve her audiences from whichever location she is based on. As a spouse of the serving member of the 1st Royal Gurkha Rifles, she is quite occupied with the battalion's own commitments but she makes sure that her radio work is always intact. Amongst many responsibilities she holds, Gurkha Radio has always been in the top priority of hers. Radio is not just a work for her, it's her passion. As long as she lives, she intends to be on the radio, that's for sure.
Hira's lovely family consists of her husband, daughter, and son.
Get in Touch