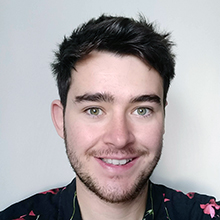 Jack Miles has been inflicting his voice on the radio for a good few years now, having worked for the BBC and some of the UK's biggest commercial radio brands. If you're unsure if he's on the air or not, he's the one that usually sounds slightly dazed and confused.
Having only recently joined BFBS, Jack is regularly heard hosting the afternoon show in Canada. He says "Being able to work for the forces station is such a privilege! I love hearing and sharing your stories and the way the community links up across the globe is amazing. Working for BFBS is really special so thank you for putting up with me!"
Other than talking between records, Jack is a marathon runner having completed London, Manchester and soon (hopefully) Edinburgh. He's also a massive foodie so if someone is waffling on about lunch on your radio, it's a good chance you're listening to Jack.
Get in Touch