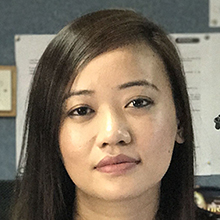 Laxmi Gurung is wife of Bishwas Gurung who is currently serving in the 1st Battalion The Royal Gurkha Rifles based at Tuker Lines, Seria in Brunei.
She joined BFBS Brunei as a volunteer in June 2014. Her passion for Radio started when her teachers appreciated her voice while hosting a programme in school. She has been a regular listener since then. She always find it amazing how Radio presenters get connected with their worldwide listeners through their voice. To that end, She loves working in Radio.
Putting those Headphones and speaking into a microphone give her an amazing vibe that She has always wanted. Other than Radio, She is into fictions and loves to travel, experience new cultures and taste different verities of food.
Get in Touch