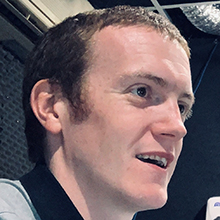 Matt began his radio journey in 2012, hosting shows on a community station in Swindon. Over the years he kept people entertained, largely with stories from his life that many would've found too embarrassing to share (there's a few from when he was a supermarket delivery driver that I'm sure will come out again at some point).
Many describe 2020 as a complete write off, partly because of a global pandemic but also because Matt started at BFBS. That said, he'll win you over with his quirky, random radio features. It won't be long before 'Horse or Morse' goes global and trust me, it's a gem!
Outside of radio, he's a fan of tea, chocolate, beer and Liverpool FC!
Get in Touch