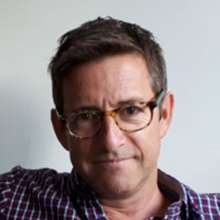 Richard Hatch is an award winning presenter/producer for BFBS radio in the UK. For the last 25 years he's traveled the world living alongside HM Forces in the Falklands, Gibraltar, Germany, Bosnia, Kosovo, Cyprus, Belize and Afghanistan. He's currently based in the UK.
Career highlights
Richard has won 5 New York Radio Festival awards for a wide variety of radio projects. He co-wrote and produced the documentary 'The Chelsea Pensioners - A life served' which won Gold. He won Silver for co-presenting the daily 'Hatch & Duffus' radio show which won in the comedy category. Plus three Bronze awards; two for executive producing the Comedy sketch show 'Damn The Torpedoes' with Kirrin Productions and one for presenting 'The Richard Hatch Breakfast Show' in British Forces Germany.
He is the current Guinness World record holder of the "Longest Underwater Radio broadcast". He managed 4 hrs and 43 minutes, in a show that was heard all over the forces world.
He's Vice Patron of the Soldiers Arts Academy which is a platform through which serving and ex-serving military personal can participate in the creative and performing arts.
When he was in Afghanistan he presented a daily radio show from Camp Bastion to troops all over the region and all over the forces world. While there, he interviewed David Beckham for a live 1 hr radio special and hosted a Q&A evening with him. Richard was also part of the Radio 1 - "10 Minute Takeover" with Fearne Cotton and Greg James for which BFBS were awarded a "Friends of the Forces" award by the Royal British Legion which was presented to BFBS by Prince Harry.
In his spare time he makes things out of wood that tend to wobble.
Get in Touch