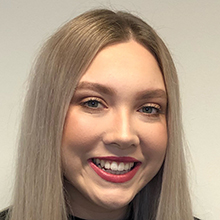 Sarah Devine is no stranger to the airwaves, having worked for several UK commercial radio stations, since arriving from Australia in 2014.
Having come across from Heart, she is now presenting on weekdays with BFBS Salisbury Plain, from 13:00 to 16:00.
Known for her warm, relatable and witty character, the afternoon show is never short of observational humour and fun. The timeslot also features the latest from the Forces news team keeping members of the forces, families and friends connected locally and across the world.
There are many things Sarah enjoys about presenting for BFBS. "I love hearing what listeners have on their minds. It's something unique to radio, as a broadcast medium. It's immediate, it's live and listeners are always encouraged to get involved with the live shows."
Aside from radio, she spends a lot of time behind the decks mixing techno, sending her friends lengthy voice messages on WhatsApp and posting comedy bits and pieces to her Instagram.
Get in Touch