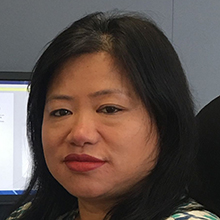 It's all in genes for Sirish. Born to a father who dedicated his entire life to Radio and was immensely popular as a Radio broadcaster nationwide, Sirish was bound to follow in his footsteps and carry on his legacy. Inspired and encouraged by her father, she joined Radio Nepal, a national radio service of Nepal, back in 1995 and since then there was no looking back for her. Radio is her lifeline now.
Her relationship with BFBS started in 2002 when she accompanied her husband on a family tour to Brunei. Within a week of her arrival she got selected as a broadcaster in BFBS Gurkha Radio and the relationship has continued to grow from strength to strength ever since. Radio is the only place where she finds her true self and purpose for life.
Sirish is fun-loving, jolly and bubbly, but dedicated, devoted and hardworking too. She believes in change and always welcomes challenges. She loves to read, travel, binge watch Netflix and meditate.
She lives in Kent with her family.
Get in Touch