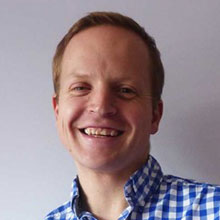 Growing up in south east London, Tim caught the radio 'bug' aged 16 whilst studying drama at The BRIT Performing Arts School.
He's worked in commercial radio across London, Sussex and Essex; always enjoying getting out of the studio and meeting listeners at a variety of outside broadcast events.
Since joining Forces Radio BFBS, Tim's lived in Gibraltar, broadcast regular shows from RAF Brize Norton and fronted a variety of outside broadcast events; such as our coverage of D-Day 75 in Normandy, France, and presented stories on adoption in the forces, the role of religious faith in the military... and even a music special about The Lord of The Rings!
Best of all, Tim loves heading out from the studio; out and about, telling your stories, in community as you serve in or alongside the armed forces.
Outside of work, he's a member of his local church, leads a youth club, enjoys swimming and is a big film buff!
Throughout, that 'drama school vibe' has never left, with Tim treading the boards in a number of am-dram productions and even working as a children's entertainer.
Get in Touch