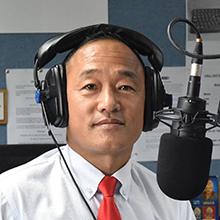 Hello and Namaste!
After 22 years of exemplary service in the British Army, Yog is now with BFBS Gurkha Radio, and he is currently working in Brunei as a Principle Programmer.
During his career in the Army, he served in Hong Kong, Malaysia, United Kingdom, Falkland Island, Bosnia, Macedonia, Kuwait, Afghanistan, Iraq, Germany and Cyprus.
He started listening to Gurkha Radio when he joined in the British Army in Hong Kong in 1991. It became his dream to work as a Radio presenter. To that end, he decided to join BFBS Gurkha Radio in 2005.
He enjoys doing creative Radio programmes, especially interviews and talking to different people from all walks of life.
He is married to Helen Rai. He has one daughter and one son. His hobbies are travelling to new places, and meeting people.
Get in Touch